Sergeant Burton L. Brink
Sergeant with the Los Angeles County Sheriff's Department. This page is Dedicated to Los Angeles County Deputy Sheriff Dave March (EOW 04-29-02), Partner in Law Enforcement, Murdered by an ILLEGAL ALIEN, ARMANDO GARCIA, Who fled to Mexico.

This killer has been captured, and has pled guilty.

Cop Killer PLeads Guilty Earns Life Sentence!
Hello Ham Radio Community,
Hello Friends, After waiting 320 days for his extradition back to United States soil, Cop killer Armando Garcia has been returned to USA to be tried for the murder of Deputy Sheriff David March. All of his appeals to fight extradition have failed in Mexico.
He has entered a guilty plea at Pomona Superior Court on March 2, 2007. Thankfully We were spared a lengthy and costly trial.
Please continue to keep Dave's family and the law enforcement community in your prayers as we can now begin truly healing. This will never replace what we have lost, but we are finally relieved to see some justice for David March.
To remind you about what happened, On April 29, 2002, Los Angeles County Sheriff's Deputy David March became the victim of Garcia's. Deputy March was on routine patrol in the area of Arrow Hwy/Peck Rd. in the city of Irwindale, when he pulled over a 1989 black Nissan. As always, he entered the license plate number into his computer and got out to speak with the driver. Deputy March never made it to the car. Deputy March was ambushed and there was a scuffle with the Garcia. Garcia pulled out a gun and shot Deputy March over and over again, hitting him multiple times in the face, neck and chest. Garcia then hopped in his car and fled, leaving the Deputy March to die laying in the street.
Garcia was living free in Mexico until February 23, 2006, when Garcia was arrested in the city of Tonala in the western part of the Mexican state of Jalisco. He was taken into custody outside of an uncle's house that was being staked out by U.S. Marshals and Mexican police. The arrest was a result of a year and a half of surveillance by US and Mexican law enforcement agencies working together.
Garcia has been fighting extradition since. He has he lost that fight, and has been returned to the United States to stand trial for the murder of my friend and Law Enforcement Partner. I was one of the first Deputies on scene that dreadful day.
Thanks Burton Brink Sergeant, Los Angeles County Sheriff's Dept
73, Burton Brink-N6USO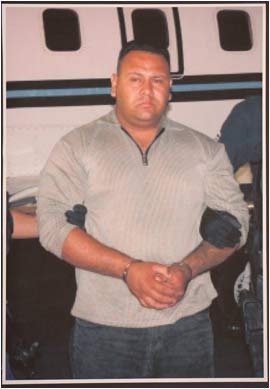 The above picture is of Jorge Arroyo Garcia, 29, known by many aliases including Armando Garcia, was arrested just after noon on 2-23-06 in Tonala, a small town just outside Guadalajara. Officers from Mexico's Agencia Federal de Investigationes arrested Garcia without incident as he left his uncle's home. He was taken to Mexico City, where he was jailed pending court hearings on extradition to Los Angeles (Which will not be soon enough).
He is accused of murdering Sheriff's Deputy David March on April 29, 2002, in the city of Irwindale. March, on routine patrol in a black-and-white Sheriff's cruiser, stopped a car allegedly driven by Garcia. The deputy was shot with a 9 mm semi-automatic handgun and left bleeding in the street. He died later in the day. I was the 3rd deputy on scene and escorted the Ambulance to the Hospital where Dave died.
It is believed that Garcia, a convicted drug dealer, fled to Mexico within hours of the shooting. At the time Deputy March was killed, Garcia was wanted on two unrelated counts of attempted murder.
In late November 2005, the Mexican Supreme Court reversed an earlier ruling that hampered extradition of suspected murderers such as Garcia who faced a possible life prison term in the United States. The Mexican court's November ruling allowed extradition of criminal suspects facing life-in-prison sentences abroad. This was a long time over due, and it is great to see he is no longer living Free, and will now be brought to justice for the EXECUTION of Deputy Dave March.
Sergeant Burton Brink, LASD

DEPUTY BRINK'S BASEBALL CARD PICTURE.
TAKEN IN DECEMBER 2003

I have been with the Los Angeles County Sheriff's Department since January 1989. Prior to that I was an Officer with Monterey Park Police Dept. from 1982-1989, and an Arcadia Police Explorer/Cadet from 1977 to 1982. I was assigned to Temple Sheriff's Station in 1991, where I was a Patrol Deputy, Traffic Investigator, Field Training Officer, and Motor Officer for 9 years. I was also a Motor Instructor for the Department and a Motor Training Officer in the Field. I was promoted to Sergeant in January 2009 and assigned to Pitchess Detention Center East jail (Old Max) and transfered to Crescenta Valley Sheriff's Station in January 2011.

I also started the Countywide "HAMWATCH" program in 1993. I also teach Traffic Safety Classes in the community to assist drivers with updated traffic laws and driving safety tips.

This page is dedicated to Deputy Dave March, who was murdered, on a Traffic Stop in the City of Irwindale on April 29, 2002. I was the 3rd Deputy on scene, that day, and Escorted the Ambulance to the hospital with Dave. In Law Enforcement, we never know what will happen from day to day, as what happened to Dave. Please pray for all our Public Safety Officers and Firefighters who put their lives on the line for us all.

I have lost a number of friends in the line of duty.
1. Reserve Deputy Beauford "Loyd" Brooks EOW:09-01-84, I was a Cop at Monterey Park. His Daughter (Lori Brooks Johnson) was my wife's "Maid of Honor" in our wedding. Lori's Husband (Roger Johnson) was my best man. We all went to school together. Loyd, was Killed by a errant driver, while he was directing traffic at an accident scene, landing a helicopter.

2. Deputy Nelson H. Yamamoto, EOW: 03-31-92. Nelson and I went thru the Academy and patrol school together, when he was killed. Suspect was killed by NYPD.

3. Deputy Brandan G. Hinkle, EOW: 02-14-01, was a short time friend. I met him 1 month before he died in a Motorcycle accident.

4.Dep. Hagop "Jack" Kuredjian, EOW: 08-31-01, I helped train him on motors. He was a great guy. Suspect killed in shootout with SEB and Federal agents.
5. Deputy David W. March EOW: 04-29-02, I worked with at Temple Station. I was blessed to have known him.

6. Deputy Pierre Bain, E.O.W. 3-23-06, was killed in an On Duty Motorcycle Accident in Lancaster, CA. We worked together at Temple Sheriff's station before I began working Motors. About 2 years later, he got onto motors as well and I helped train him on the bike. He worked Traffic Enforcement in Duarte, until he later transferred to Lancaster. Pierre was a great guy and very funny. He could always lift your sprits.

It is hard on us all, and we can NEVER forget the sacrifices these Deputies and all Officers make.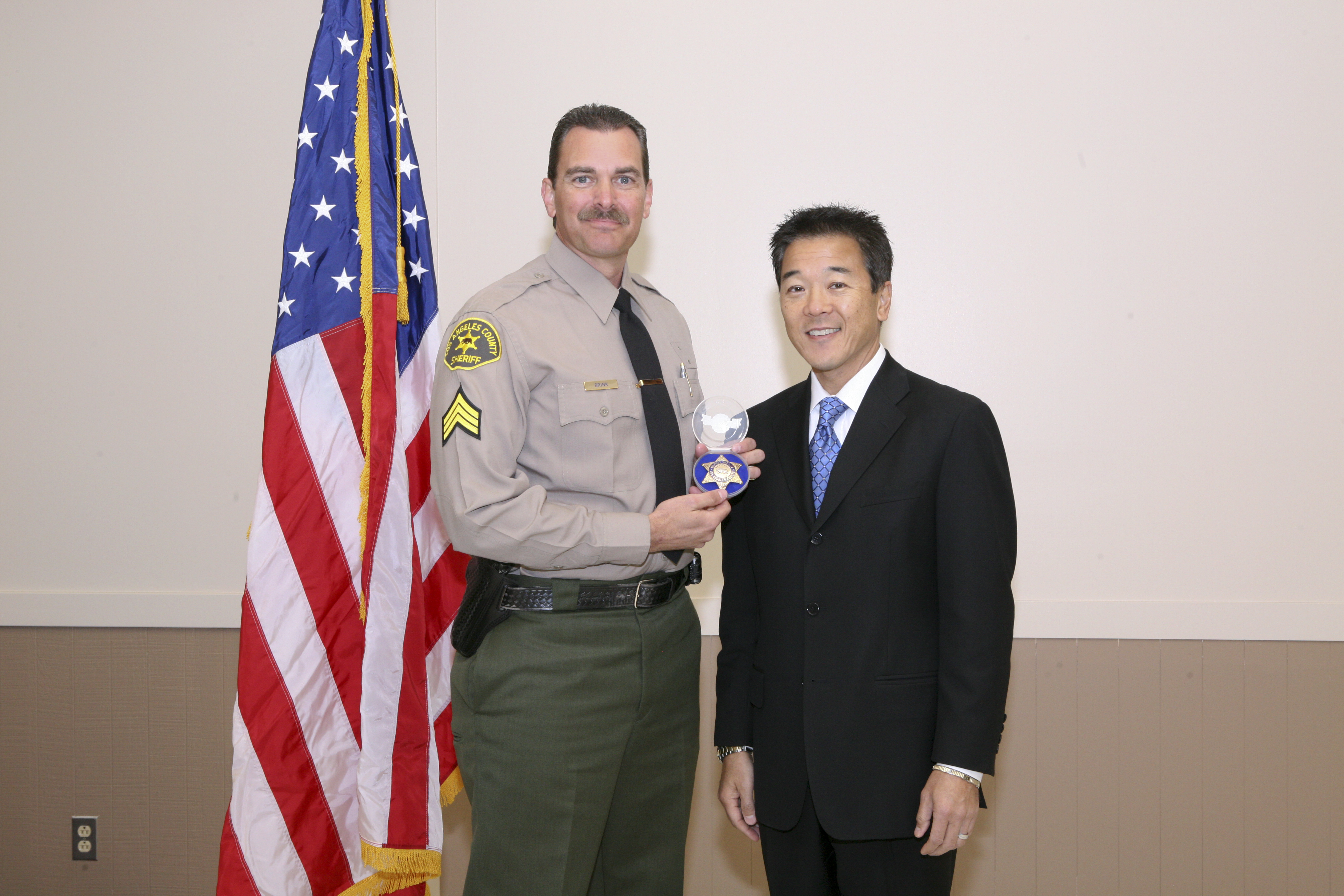 DEPUTY BURTON BRINK
Los Angeles County Sheriff Leroy Baca Presents Legendary Lawman Award to Deputy Burton Brink -- April 2005
10851 Award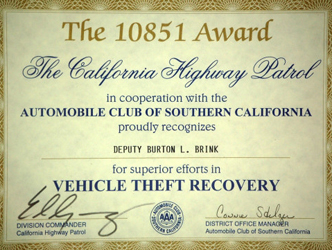 Awarded by CHP and AAA for recovering Stolen Vehicles
Baker to Vegas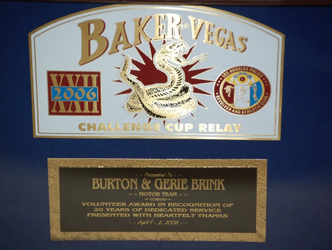 20 Years of Service
Motor School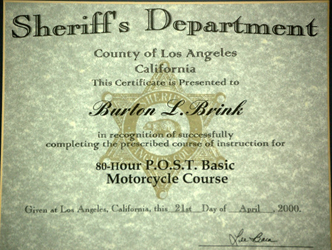 My Motorcycle School Certificate
Safe Patrol Driver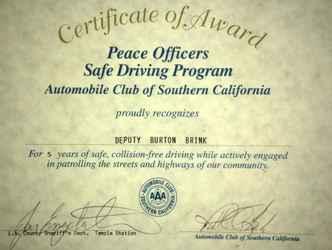 5 Years of Safe Driving
DEPUTY BRINK ARRESTING SANTA, 2003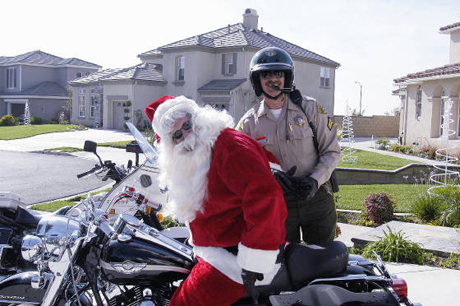 SANTA IS MY BEST FRIEND(SCOTT) UP THE STREET FROM MY HOUSE!




�